Since my first iPod Touch, I haven't been buying Apple products because they tend to be very expensive, but as a loyal fan of the brand, I got a used but barely new iPhone 5 (which only had a lot of scratch marks).
When I first used that device, I was impressed by the perfection the Apple team has put on this 2012 device with 2011 Android features. It run as smoothie as a 2013 low-end smartphone.
Unfortunately, probably because of my inappropriate use, as your customer service says, I went to sleep with my iPhone fully working (placed on my nightstand) and woke up with a bad screen.
To show you what happened on my iPhone, I'm gonna send attached a video I took with my low-end Motorola device from 2013 (which, by the way, works as intended :]) of the malfunctioning screen.
Sincerely,
​​Italo Lelis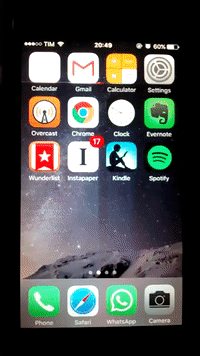 ---
This is just a draft letter to Apple's CEO as a funny joke based in a real situation that happened with me. Some facts are fictional. Thus, I referred to "Tim Cook" as "Tim Cookie" for humorous purposes and, in no way, I meant to harm his person.